Designed for organizations requiring reliable, easy to deploy, and affordable infrastructure at the edge of the network.
HC3 Virtualization Platform
Simplified, highly-automated infrastructure that keeps your apps and business running.
HC3 brings together virtualization, servers, storage, and backup/disaster recovery into a single solution, eliminating the need for third-party components or licensing. The result is a highly efficient virtualization infrastructure that's easy to use and effortless to maintain, producing substantial cost savings in both the short and long term.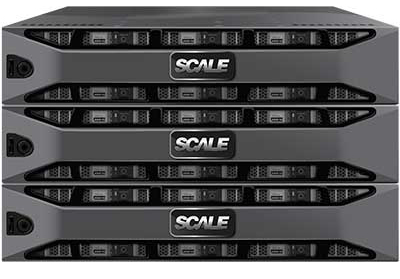 HC3 Edge Solutions
Self-healing, right-sized infrastructure that runs critical apps, right where they're needed.
Simplify Your Systems with Scale Computing HyperCore™

HC3 Cloud Unity
For on-prem infrastructure, no solution is easier to implement and manage than HC3 hyperconverged infrastructure. The automated management of server resources and storage means that the management interface is as simple as any public or private cloud environment.
Now, with HC3 Cloud Unity, your on-prem HC3 system can be connected to, and protected by, the cloud. By deploying a virtual HC3 appliance on Google Cloud Platform, VMs can be replicated securely and protected for failover and disaster recovery. HC3 Cloud Unity is an ideal option for smaller organizations without a second site for disaster recovery, or for organizations that prefer the flexibility and availability of the cloud.
Contact an HSSL Solutions Specialist today to Learn More!